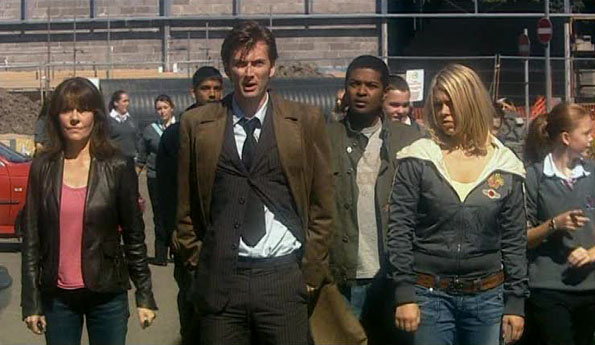 I started watching Doctor Who in the Patrick Troughton years. Jamie was my first favourite companion (though now I might prefer Zoe, phwoar). I watched the shows on and off until I left home for university and Peter Davison took over. I did literally hide behind the sofa when it was scary.
It's Saturday and I'm looking forward to downloading another episode of Doctor Who. The last three episodes ("Human Nature" "The Family of Blood", and "Blink") have been absolute classics (though I note that it is interesting that the doctor was absent in some sense from a large part of all of these).
Last week I also watched Doctor Who Confidential where David Tennant talked to various of the creators of the show about their childhood watching of the show. I realized that it is my contemporaries who are now creating the show. Despite what Jarvis Cocker says it is the good guys who are running the world. I feel connected to the people who make Doctor Who. And in 2007 you can even read them blog about their work and see how deservedly proud they are to be part of Doctor Who. I hope they can maintain the quality through the inevitable backlash that will soon come, perhaps when Russel T. Davies leaves the show.
Would I watch Doctor Who if I hadn't been watching it since I was seven? Or not British (only a British show would have an alien visitor award Null Points to a monster). Watching Doctor Who does make me feel like a child. The Doctor is the ultimate Dad – jokey but knowledgeable, always there to rescue you. It is Father's Day tomorrow and I'll be watching Doctor Who.